Your

Minnesota

Resource

for

the Vizsla!
Our Mission
To emphasize excellence in the breeding of purebred Vizslas, and to do all possible to bring their natural qualities and abilities to perfection;
To urge members and breeders to accept the standard of the breed as approved by the American Kennel Club as the only standard of excellence by which Vizslas shall be judged;
To do all in its power to protect and advance the interests of the breed by encouraging sportsmanlike conduct at dog shows, obedience trials, agility trials, tracking tests, hunting tests, field trials, and other dog related activities; and
To conduct sanctioned and licensed specialty shows, obedience trials, agility trials, tracking tests, hunting tests, and field trials under the rules and regulations of The American Kennel Club.
Are you looking for a Vizsla puppy?
Are you looking to add a vivacious, versatile Vizsla to your life? We have information available to help you determine if you want a puppy or adult. Access our Vizsla Breeder Network via our Breeder Referral program. Consider adding a rescue Vizsla to your life. Breeder or Rescue. Puppy or Adult. The choice is yours. We want to help!
We want you to join us! 
Our club is dedicated to preserving and protecting the Vizsla. We plan a variety of events throughout the year, provide Breed Education, maintain a Breeder Network, and maintain Vizsla Rescue in Minnesota, North Dakota, and South Dakota. Our members are pretty busy with their Vizslas!
Want to meet more Vizslas?
Come to our next event! Our events are not just for our members, they are open to the public. We are always looking for individuals to join our club. We do a variety of activities and hopefully something will convince you to join us. Come to a hunt test to see Vizslas do what they were bred to do; check out our Specialty show to see beautiful Vizslas and meet their breeders; plan on attending our Fun Day – a time for us to bring our Vizslas and enjoy each others company.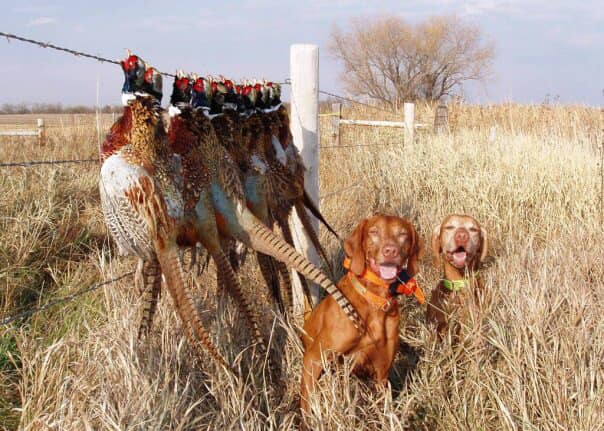 Vizsla Rescue
Our rescue region covers Minnesota, North Dakota, and South Dakota. Our rescue team is comprised of club members who respond to every request for help. Many Vizslas have found their forever homes with our help. Consider making a contribution to our Vizsla Rescue Program today.
Newsletter Subscription
Are you interesting in learning more? Then consider subscribing to our quarterly publication, The Vizsla Voice. 
The Vizsla is the original versatile breed! No matter what you choose to do, they want to do it with you!